Tung Tien Enterprise Co., Ltd.--Casters, wheels, ball casters, medical casters, OA furniture casters, industrial casters
- 2013/06/15 -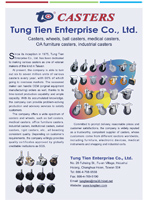 Since its inception in 1975, Tung Tien Enterprise Co., Ltd. has been dedicated to making various casters as one of veteran makers of this kind in Taiwan.
At present, the company is able to turn out six to seven million units of various casters every year, with 60% of which going to overseas markets. The seasoned maker can handle OEM (original equipment manufacturing) orders as well, thanks to its time-tested production capability and ample capacity. With its accumulated knowledge, the company can provide problem-solving production and advisory services to satisfy customers.
The company offers a wide spectrum of casters and wheels, such as ball casters, medical casters, office furniture casters, industrial casters, institutional casters, swivel casters, rigid casters, etc., all boasting consistent quality. Depending on customer's requirements, the company willingly provides quality certificates approved by globally creditable institutions as SGS.
Committed to prompt delivery, reasonable prices and customer satisfactions, the company is widely reputed as a trustworthy, competent supplier of casters, whose customers come from different sectors worldwide, including furniture, electronic devices, medical instruments and shopping and industrial carts.